---
Fire Weather Data for Lakeville, Minnesota
---
Current Conditions

Windspeed
3.5 mph

24-hour Rain Total
0.00 in.

---

Today's Values
Current Lakeville Fire Danger is: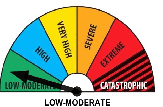 The following information is provided by the Minnesota Department of Natural Resources:
Minnesota Fire Danger Ratings

Current Burning Restrictions
in Minnesota

Burning questions - Information about burning permits, restrictions, etc. in Minnesota
Data Codes
Fine Fuel Moisture Code (FFMC)
Thisprovides a relative indicator of the moisture in the fine fuels. Likethe 1 hour fuel moisture, it reacts directly with the air temperatureand relative humidity.
Duff Moisture Code (DMC)
This is an indexof the moisture of the loosely compact organic layers at a depth of2-4 inches.
Drought Code (DC)
This measures long termdryness in the fuels. It is a longer term index than the NFDRS 1000fuel moisture. It doesn't reflect the probability of fire occurrenceby itself, but can be useful in predicting the level of mop up neededand the consumption of large fuels. It should be looked at inrelation to peat fire starts.
Initial Spread Index (ISI)
This is based onthe FFMC and the wind speed. It provides a relative numerical ratingof the expected rate of spread. This is similar to the NFDRS SpreadComponent.
Buildup Index (BUI)
This index is based onthe DC and the DMC. It provides a relative indication of the amountof fuel available for combustion. This is somewhat similar to theNFDRS Energy Release Component. It doesn't predict what a given daymight be like, but does relate well to the dryness of the fuels.
Fire Weather Index (FWI)
This combines theBUI and the ISI to give a relative numerical rating of fire intensity.It can be compared to the NFDRS Burning Index.
Interpretation
The following chart is a statewide generalized fire danger ratingchart for the Canadian Fire Weather Index. It is based on a fiveclass danger rating system, i.e., low, moderate, high, very high , andextreme. The distribution is based on weather records from 1985 -1998. Low days occurred 45% to 50% of the time, moderate - 30 %, highdays - 12% to 15%, very high days occurred 7%-8% of the time, andextreme days were 2%-3%. This is not meant to be used as a staffingguide . Each area needs to look at its own weather data coupled withits fire occurrence data. For instance, if you have a drought code of380, it does not mean you are in extreme fire danger. It means thatthe drought code only gets that high on 2% of the days between April 1and November 1.
| Index | Low | Moderate | High | Very High | Extreme |
| --- | --- | --- | --- | --- | --- |
| FFMC | 0-81 | 81-88 | 88-90.5 | 90.5-92.5 | 92.5+ |
| DMC | 0-13 | 13-28 | 28-42 | 42-63 | 63+ |
| DC | 0-80 | 80-210 | 210-274 | 274-360 | 360+ |
| ISI | 0-4 | 4-8 | 8-11 | 11-19 | 19+ |
| BUI | 0-19 | 19-34 | 34-54 | 54-77 | 77+ |
| FWI | 0-5 | 5-14 | 14-21 | 21-33 | 33+ |